Wildcat Falls Conservation Area
Merrimack, New Hampshire 03054
Wildcat Falls Conservation Area webpage
Wildcat Falls Conservation Area map
eBird Hotspot
Wildcat Falls Conservation Area, Merrimack
Coordinates: 42.8596711, -71.5057182
eBird links: Hotspot map – View details – Recent visits
My eBird links: Location life list – Submit data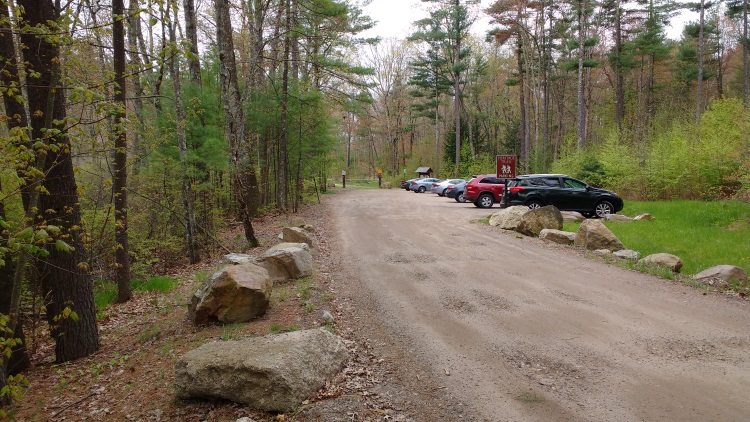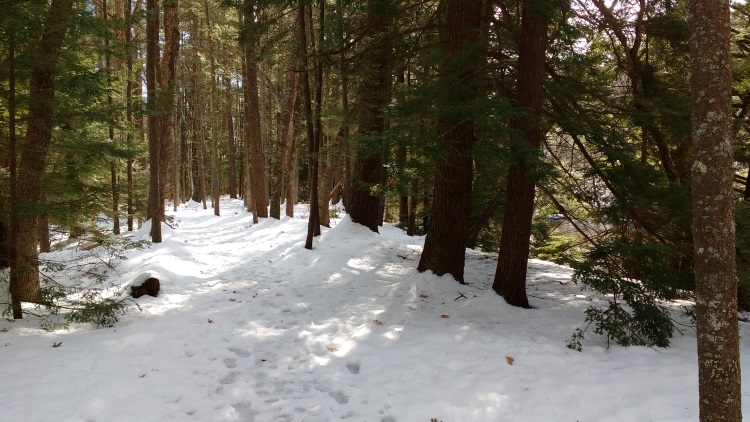 Photos by Molly Jacobson

Tips for birding Wildcat Falls Conservation Area
Parking for Wildcat Falls is a dirt lot located off of Currier Road. It can get busy at times but usually does not fill up entirely. The best place to start birding is in the parking lot itself, which borders a small wetland area. Here, the diverse strata offer places for a variety of birds to hide, from Eastern Towhees (in abundance) and Swamp Sparrows in the undergrowth to kinglets and Black-and-white Warblers in the low trees and Pine Warblers in the tall pines. Sparrows also forage in the grassy cover right next to where cars are parked, and species from the surrounding suburbia can be picked up as well.
The main quickly path veers into two; if the left is taken, it leads out into a clearing and then a power line right-of-way. This is a guaranteed place for Prairie Warblers, and many other species like Northern Flicker, Common Raven, Eastern Bluebird, and Eastern Kingbird can also be seen. The woods contain Brown Creeper, Golden-crowned Kinglet, Scarlet Tanager, and Eastern Wood-Pewee among others.
Ducks can occasionally be seen on the Souhegan River, which can be reached by following the main path further, or by taking a right at the power line intersection. If the original fork in the main path is taken right, this also leads out to the river and connects to the power line right-of-way.
From a birdwatching standpoint, this site is fairly under-explored and has much to offer.
From Molly Jacobson
About Wildcat Falls Conservation Area
Wildcat Falls Conservation Area contains 87 acres of managed pine/hardwoods forest, abuts the Souhegan River and includes Wildcat Falls, a popular area. A stand-alone portion of the Heritage Trail system extends from the entrance to the falls. A PSNH power line crosses the land and provides an excellent area for bird watching and wild blueberry picking. An area cleared of trees as the result of a forest fire provides excellent views of the Souhegan River and an opportunity to watch for the elusive American kestrel and other wildlife.
Bordering the Conservation Area to the east is a state-owned parcel of land abutting the Everett Turnpike. Although the trails are not maintained on this land they are usable and will connect to a crossing under the turnpike where they will in the future connect to a trail system leading to the high school, to Watson Park and across the walking bridge over the Souhegan River to West Chamberlain Road.
Unique/Historic Features:
The History of Merrimack notes that the falls were originally known as Atherton Falls due to the location of a dam located in the area – no indication of the structure remains – before it became known as Wildcat Falls at a time and for a reason not recorded. Originally owned by the NH DOT, the land was sold to Merrimack in 1970 for $1.00. For many years it was known as "80 Acres" until in 2009 the Town Council renamed it to reflect the natural feature that attracts many of the visitors – Wildcat Falls.
From Wildcat Falls Conservation Area webpage