Socorro Nature Area
Lemitar, New Mexico 87823
Socorro Nature Area webpage
Socorro Nature Area Trail Guide
eBird Hotspot
Socorro Nature Area
Coordinates: 34.1592259, -106.8883896
eBird links: Hotspot map – View details – Recent visits
My eBird links: Location life list – Submit data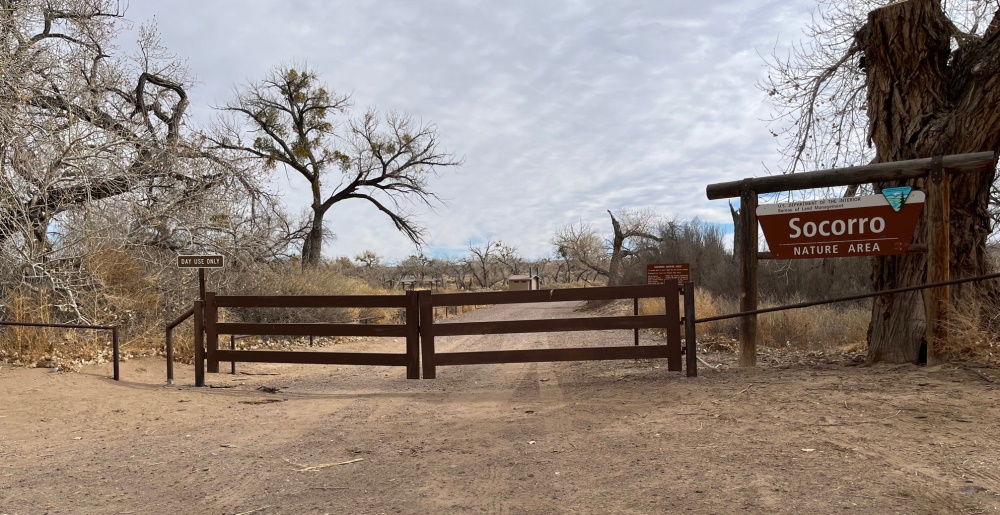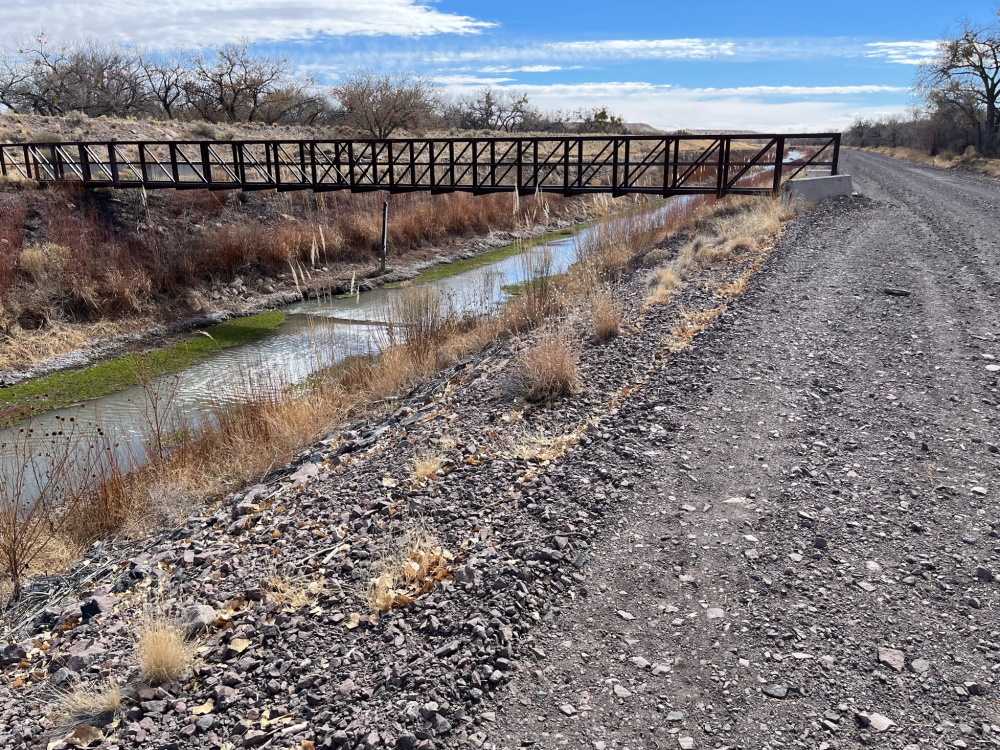 Photos by John Montgomery

Tips for birding Socorro Nature Area
Although the large entrance gates to the Socorro Nature Area may be closed, you can park north or south of the gates (don't block maintenance and emergency vehicle access) and walk-in on the left (north) side of the gates. Unfortunately, whereas the restrooms, picnic area, and trails are wheelchair accessible, it could be difficult to maneuver a wheelchair through this front walk-in entry. Restrooms are often open when the gates are closed, but come prepared to pack out any garbage you generate.
Despite there being a Trail A and Trail B, you can think of the Nature Area trail system as one north-south oriented oval loop with a shorter east-west bisecting segment. Even if you don't read the entire BLM Trail Guide, orient yourself ahead of time by looking at the map therein; trail guide copies are not typically available at the Nature Area. The trail is "interpretative", meaning there are upright markers along it corresponding to location-specific information in that brochure; they are numbered in ascending order for a clockwise loop tour. These are handy reference points for "Details" accompanying individual observations in your list.
Similar to the front (west) entrance, you may cross through the Area's east fence directly east of the restrooms, putting you on the west maintenance road of the Low Flow Conveyance Channel. A short walk south on this road brings you to a bridge across the Channel. You can climb the levee, but river access is blocked by thick brush. Yet, it is worthwhile to check the Channel from the bridge with binoculars or a spotting scope.
From John Montgomery
About Socorro Nature Area
The Socorro Nature Area is a 120-acre environmental education area in the Rio Grande Bosque. The area includes a 0.5-mile self-guiding nature walk with interpretive signs, a pond, and an amphitheater. It also has picnic tables, a group shelter, and a restroom.
Take Exit 156 (Lemitar Exit) off I-25 to the NM-408 intersection. Turn to the east and travel 1.1 miles eastward along NM-408 across railroad track to a "T" intersection. Turn right and travel southward for 0.2 miles, and turn left onto a maintained dirt county road. Travel 0.5 miles eastward across irrigation and drainage ditches to the area.
From Socorro Nature Area webpage